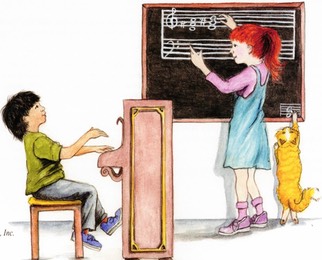 Integrating Technique • Theory • Repertoire • Creativity
STEP 1: FINGER BUILDERS, pg 2:
Introduce FINGER BUILDERS pg 2 first so that students get the feel of  the keyboard and begin to develop finger coordination.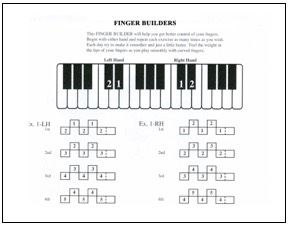 • Have students place the tips of their fingers together, then number each finger in order as they wiggle it. 

• Next, call the numbers at random as a "finger wiggling game" and suggest that the students try this each day at home to gain further skill.
• Identify the "twins" and "triplets" of the keyboard (groups of 2 and 3 black keys) and show how to find them by touch rather than sight (provides foundation for reading, also). This should be practiced each day at home during the first three or four weeks.
The exercises in FB should be practiced several times each day, in both hiqh and low registers, as well as in the middle of the keyboard. 

• Have the children play these slowly as they learn how to transfer the weight from one finger to the next. 
•  By having a slight pulling sensation as they depress each key, the students will develop firm knuckles and a curved finger position. 
• Once they get the "feel" of a proper hand position they should look at the page, not their fingers, as they practice, since this is the skill necessary for effective music reading. 


STEP TWO: INTRODUCE MUSICAL CONCEPTS THROUGH PIECES - 
MUSIC FOR PIANO, pg 2: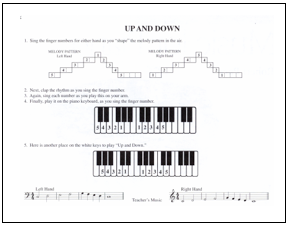 Present the materials from MUSIC FOR PIANO (MP) to students in terms of certain basic concepts which will be reapplied over and over in 
many similar, yet slightly different ways.
For example, on page 2, show the students how melodies may go up and down by
steps as they "shape" UP AND DOWN in the air while singing this song. Also, make students aware that melodies have both long and
short notes coming down, with the last note being the longest. Let them see that this melody is on all white keys
 and may be transposed to another place and played again on the white keys, as indicated by the second keyboard on pg. 2.
STEP THREE: CREATIVE REAPPLICATION OF A CONCEPT -
CREATIVE MUSIC, pg 2:
On page 2 of  CREATIVE MUSIC, students gain additional experience in playing UP AND DOWN and transposing this first piece to D and A major (one black key in
the middle). 
Students should also play UP AND DOWN  in higher and lower registers, and explore additional keys, as well. Each time students play UP AND DOWN,
 however, they should look at the melody pattern on the page and sing-the finger numbers.
STEP FOUR: SYMBOLIZING AND IDENTIFYING CONCEPTS
FINGER BUILDERS, pg 2: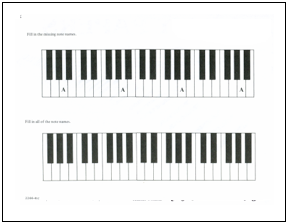 Students should say each note name as they play it on the keyboard.  
Begin other fun, reinforcement games, such as  "Keyboard Orientation," from Musical Games and Activities. 
Adapted from Teachers Guide Book I  by Robert Pace. 
© Copyright By Lee Roberts Music Publications. All Rights Reserved.