For Lessons • Recitals • General Music
Classes • Recreation
By Cynthia Pace
Für Elise Flash Mob offers a unique lesson plan—Flash Mob - style piano improv! Using borrowed elements from Beethoven's beloved Für Elise (including the blues scale, itself), players join in by improvising short "parts. Each part is based on designated blues scale tones and rhythm patterns. An easy 5-note swing bass accompanies throughout.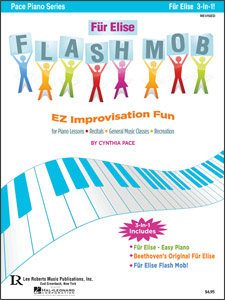 Students are excited by associating Beethoven's legendary Für Elise with their own interactive improvisations. They gain familiarity with the blues scale, syncopation, staff note names (beginners), registration (beginners), and thinking in musical motion. Many also enjoy playing Beethoven's original Für Elise (included in this 3-in-1 book, in original and easy editions). Above all, they enjoy lively musical fun in the company of their friends.
Also provided: Teaching tips, and cue card cut-outs. Level: Beginners and up
24 pages .
Publisher: Lee Roberts Music Publications, Inc.
Distributer: Hal Leonard Corp
HL 102510.....$4.95